Here's what you need to know about Podcasting
By Brittany Luhrs - Marketing Coordinator at WeAreTENZING
Podcasting in Aotearoa is a growing industry. WeAreTENZING got together four of our podcast experts to discuss how to create, grow and market Podcasts. Brodie Kane, Dani Fennessy, Bel Crawford and Raniera Rewiri had a beautiful kōrero about all things podcasts. Everything from the technical side of how they create their podcasts to how to navigate sponsorships and brand partnerships. They talked about the relationship that they have with their audiences and how they market their podcasts in Aotearoa.
Raniera discussed what drew him to starting a podcast, connecting with people and sharing stories.
"I think podcasting enables a space for people to story-tell, where they can actually reveal so much more of themselves. Looking at an online space you only see a 30 second clip or minute video and we judge people based on what we see but it's not all that we know and I believe we can better understand people by getting to know them on a deeper level."
Dani Fennessy talked about how uniquely engaged podcast audiences are
"They come back to finish the conversation, because they're there for a reason, you chose a podcast for a reason, you don't just flick on a podcast, if you're listening to the radio you just flick it on to whatever stations on or whatever music, but you're actually choosing a podcast because you want to listen to it and you want to hear the stories."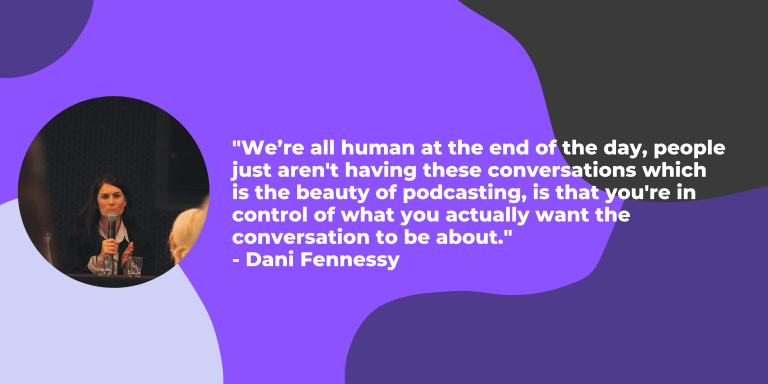 Raniera discussed podcasting as being different to other forms of media. There's many different types of content that you can repurpose from the filming and recording from the podcast itself; what is seemingly one piece of content can be turned into 3 or 4 different pieces of content –
"When I think about podcasting the thing that I really like about this kind of media is that you can have a 60 minute conversation that's audio, then that goes onto Youtube, then you have 60 one minute pieces of that video that can go on Instagram then TikTok, then you can have ten minute clips. You can chop up one piece of content into many different pieces across many different platforms. You can't really do that with many other types of media. So that's the cool thing that I really like about it. Sometimes you get people who want to listen to the whole thing, but what I believe is happening at the moment is micro-content. You can put a piece of micro content which is a 3 min clip onto instagram, say you have 40,000 people online and they might all see that if it's engaging enough. There's opportunity for people who are collaborating, or building relationships with podcast platforms to be leveraged in all of these different spaces. It's not just having the mindset that people are only going to listen to this when they're driving to work, there's all of these other places that can be utilized as well." 
The panelists then discussed how they navigate sponsorships and brand deals on their podcasts. Bel discussed educating people on the opportunities that can come from working with podcasters. 
"It's awesome that it's starting to happen but it has been really hard to break down those attitudes, and educate that "Hey! We don't have that many Instagram followers but we have this many ears who will hear your ads". They will hear it because you are the only person on that podcast. You can do really epic integrated content…  you can then go do extra things. For some of us who have a background in radio or are really good at integrated content, there is opportunity to do that through podcasts and of course cross digital which is a huge part of podcasting and audio."
Brodie then shared some examples of successful brand deals she's worked on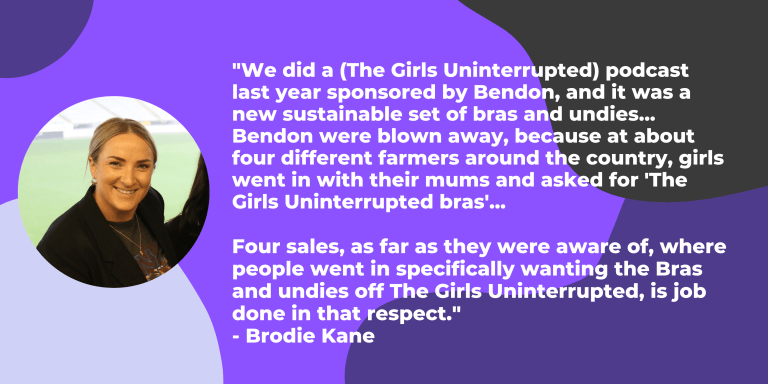 "It's funny in terms one of our most listened to podcasts for The Girls Uninterrupted was a one off sponsorship and that's why I will reiterate that it's great to be able to make the rules up as you go along with particular brands. So we did a podcast last year with Eve Wellness, and their founder Beatrice Thorne came on, and the reason we decided to do that is because is because on Girls Uninterrupted we still do do one off ones but they have to be a particular, like it's always a guest and it has to be something very specific to what our audience would want to listen to. So we did a podcast with Beatrice last year, and we ended up calling it "This is the talk we never got about our bodies" and it was all about the hormonal cycle and periods and everything. And Gracie, myself and Caitlin just sat there with our gobs wide open because we learnt so much! So she was an amazing guest. It didn't sound like an advertisement, it was sponsored and I actually think that it is our most listened to episode of the Girls Uninterrupted podcast because it was a direct brand that we all could relate to in terms of hormones and menstrual cycle so that was a really really successful one." 
Advertising through podcasts can be very effective, the latest Nielsen report showed that "78% [of people] said they do not mind ads or sponsorship messages because they know they fund the podcast". Not only are the podcast's audiences engaged and loyal, they are paying attention to advertising. "62% said hearing ads on podcasts would make them consider new products or services". Brodie told us about exciting new developments in the new technology with podcasting that are opening up new opportunities for sponsorships and brand partnerships.
"One of the things I'm looking at doing, is that there's a different set of software that I'm looking to upgrade with my podcast. How I've operated in the past, is that you do a partnership for a week, or four weeks. We did one recently with MAS which is a Kiwisaver scheme so for four weeks, we had top and tail "welcome to the girls uninterrupted proudly brought to you by…" and then again and the end, and an integrated piece at the end. Which is a high level of sponsorship. You can have quite basic ones, that are top and tail. This new thing that i'm trying, is where you can control the ads that you put in, pre roll, mid roll, post roll. Three months, bomb, sponsor, there you go, thank you very much, end of three months, take them out, new sponsor, bomb. But you can also buy the back catalog, so if you're buying three months, you're getting all the other ones in the podcast as well which is pretty amazing. So that's what I'm looking to do, which is really exciting."
If you're interested in learning more about podcasting opportunities or are interested in working with any of our podcasters, please contact us